John Bolton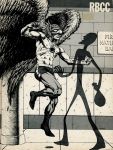 Editorial features include:
Cover by Kerry Gammill.  Back cover by Ron Wilber.
New letter column logo by John Bolton. 
"The Secret Files of Dr. Drew!" by James Van Hise, with a black-and-white Dr. Drew reprint by Jerry Grandenetti. 
"COMICS COMMENTARY" by JVH. 
"The Strange Case of Castle McDuck" by Don Rosa. 
"Don Rosa's INFORMATION CENTER" by Don Rosa. 
"COMICOPIA" by RC Harvey. 
"THE KEYHOLE" by Gary Brown.  
"COMIC COLLECTORS COMMENTS" by Howard P. Siegel. 
"Twilight of the Heroes" by Ron Wilber. 
Centerspread by Tom Sutton. 
"CRITIQUE" fanzine and comix reviews by Mark Burbey, and JVH. 
"THE PERTWILLABY PAPERS" by Don Rosa.  
"BLASTS FROM THE READERS."
Ads for:
BATIZINE #1 ("The Ultimate in Batman…")
CINEFANTASTIQUE
ENTERPRISE INCIDENTS #1 thru 5
THE BUYER'S GUIDE FOR COMIC FANDOM
THE COMICS JOURNAL #38
THE FIRST KINGDOM