Rachel Dukes

5.5" x 8.5" - 92 pgs - $6 - Fall 2009
Edited by Daniel Barlow, Colin Tedford, & Anne Thalheimer
Adults-only sex anthology published by the editors of the Trees & Hills anthologies under a new imprint to satisfy widespread interest while preserving Trees & Hills' "all-ages" publishing aspect. Follows similar positive, community-minded guidelines as the T&H anthologies, aiming for wide appeal, no misogyny, etc. Almost all T&H contributors, with a few guests. Just over half the contributors are women.
First print run, Fall 2009: 200
Second print run: 100
As of October 2010, available from:
Offshore Comix: http://www.offshorecomix.com/2010/03/big-sexy/
Microcosm: http://microcosmpublishing.com/catalog/zines/2946/
& wholesale via Tony Shenton: http://shenton4sales.tumblr.com/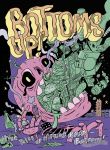 From the Birdcage Bottom Books site: "Bottoms Up! True Tales of Hitting Rock-Bottom is an anthology collecting real stories of bottoming out from alcoholism, drug dependency, sex addiction, body dysmorphia, pornography addiction and more. These stories have been adapted into comics by a team of incredibly talented and diverse cartoonists."
Full-color covers with b&w interior. Perfect-bound.

Edited by J.T. Yost