2010

8 pages, 4.25 x 5.5 inches, pastel yellow 20lb bond. 1st printing October 2010. Printed at Office Max by Eric.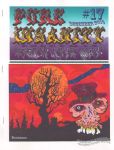 December 2010.
Signed/numbered edition of 50.
Horror House issue.


4.25" x 5.5" - 8 pgs - free Out of print.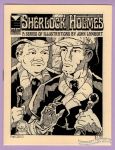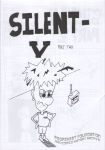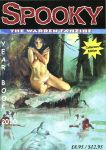 A Warren fanzine.  This oversize issue of Spooky reprints 10 pages from issues 1-3, including interviews with Bill Mohalley and Kevin Pagan, and features new interviews with Frank Brunner, Greg Bazaz, Boris Vallejo, Ken Gale, Mike Zeck, Angelo Torres, Flo Steinberg, Esteban Maroto, Terrance Lindall, Howard Chaykin, Ed Fedory, Paul Gulacy, Dick Giordano, Jeff Easley, Jim Laurier, Jeff Rovin, Don Maitz, Steve Englehart, Bob Toomey, Clark Dimond, Bruce Jones, Joe Wehrle, Barbara Leigh, Jeff Jones, Timothy Moriarty, David Allikas, Don McGregor, Russ Heath, Paul Neary, and Angelique Trouvere.
All art in this issue reprinted from Warren magazines. 
32 pages, 5.5" x 7.25", colour cover w. B&W guts, saddle-stitched. Indicia claims that book is in 8th printing and is (c) 1971. This misleading info was added by the artist to create the impression that the comic was around since the heyday of Underground Comix!

5.5" x 8.5" - 24 pgs. - May 2010 - $2 Contents: 1. Spinning World & other short strips 13. Super Friendly Garlic (originally published as Zero #1) 18. Winter In Headville (originally published as Zero #2) 24. Wear Layers As of October 2010, available from: http://www.colintedford.com/2010/square-dance-4/ http://treesandhills.storenvy.com/products/30206-square-dance-4-by-colin-tedford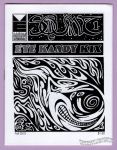 Solo collection of trippy Tom Brinkmann art.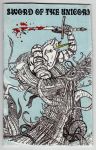 5.5" x 8.5" - 64 pgs - Fall 2010 - $5 Edited by Daniel Barlow & Colin Tedford. Cover features pasted-on element. Includes 4.25" x 5.5" 12-month calendar. First print run was nominally 300; 100 were actually printed, with the intention to print the other 200 a little later so the included calendar could be updated when the year changed over. As of October 2010, available from: http://treesandhills.storenvy.com/products/30212-time-t-h-anthology-8