1985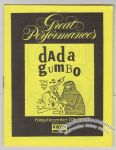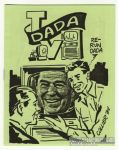 Television-themed illustrations and cartoons.
Printed on bright green stock (almost dayglo).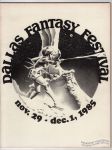 Scheduled guests included Robert Crumb, Robert Asprin, Gil Kane, Bob Burden, Denis Kitchen, Harvey Kurtzman, Spain, Bill Sienkiewicz, Larry Marder, Jo Duffy, Brad W. Foster, Kerry Gammill, Gary Groth, Tony Isabella, Jaxon, Steve Jackson, Kevin Nowlan, Richard Pini, Don Ivan Punchatz, Kenneth Smith, Jim Valentino, John Wooley and others.
Roughly 8¼ x 11".
Gender-flipped Batman and Robin featuring Penny and Maggie from Love & Rockets.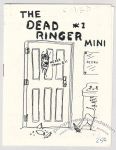 Twisted gag cartoons by John Eberly (Mumbles).
Represents excerpts from Dead Ringer #1, a 28 page digest size zine originally published in 1983 by Mumbles Publications.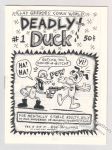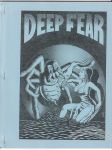 Distributed by Clay Geerdes' Comix Wave.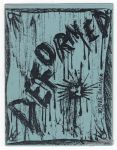 Gruesome interpretation of Revelation 9:6.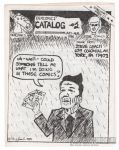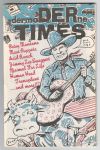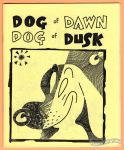 Published in 1985, released to the public in '86.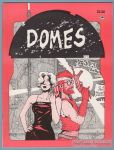 Savage Henry / Henry Savaj minicomix spy thriller written and drawn by Matt Howarth. Introduction by Michele Passmann.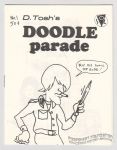 Mini collection of sketchbook doodles and drawings by D. Tosh, including several of R. Crumb (drawn during a 1984 appearance in Dallas).
Possibly more than one printing.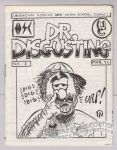 1st printing: March 1984
2nd printing: ?
3rd printing: June 1985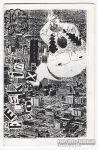 It's possible all the comics are actually by Brian Horst but I'm not certain. There are also two pages by Adam Kubert (which I assume were lifted from elsewhere) and a Handelsman page from Punch.
Published by Brian Horst?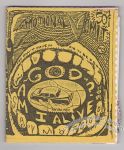 Emotional Vomit was an insane jumble of handwritten text, art brut drawings, comics, altered ads, collage and more.
3½ × 4½"
52 pages