George Erling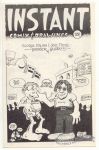 [Note: At least one image in this entry was found online (probably at an auction site) and saved for personal use. And then the Database project came along! If you recognize your image we'd like to have your permission and would love to give you credit for your work. Please contact us through Site Info > About in the main menu up top.]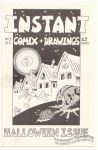 [Note: At least one image in this entry was found online (probably at an auction site) and saved for personal use. And then the Database project came along! If you recognize your image we'd like to have your permission and would love to give you credit for your work. Please contact us through Site Info > About in the main menu up top.]
[Note: At least one image in this entry was found online (probably at an auction site) and saved for personal use. And then the Database project came along! If you recognize your image we'd like to have your permission and would love to give you credit for your work. Please contact us through Site Info > About in the main menu up top.]
[Note: At least one image in this entry was found online (probably at an auction site) and saved for personal use. And then the Database project came along! If you recognize your image we'd like to have your permission and would love to give you credit for your work. Please contact us through Site Info > About in the main menu up top.]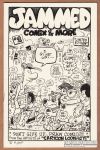 Collection of jam comix (and a few odds & ends) from members of the Cartoon Loonacy APA.
Saddle-stitched, b&w interiors, card stock cover.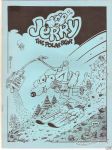 [Note: At least one image in this entry was found online (probably at an auction site) and saved for personal use. And then the Database project came along! If you recognize your image we'd like to have your permission and would love to give you credit for your work. Please contact us through Site Info > About in the main menu up top.]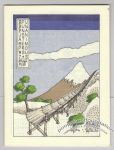 This issue's theme is "Punsters Unanimous".

700 copies of this issue were printed, 500 of which were numbered (the other 200 were contributors' copies).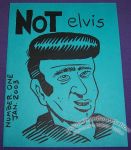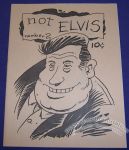 Elvis-inspired drawings.
Signed/numbered edition of 50.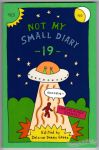 Autobiographical comics on the theme of Unexplained Events.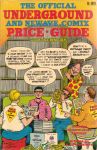 Released in both hardcover and softcover.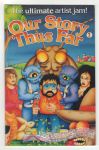 Phenomenal jam comix project organized by Brad W. Foster. Each artist contributed one page which built upon and furthered the pages completed before them.
Appearances by Gregor Samsa, Franz Kafka and cockroach-y versions of Moe Howard and Laurel & Hardy.
Full-color covers on coated stock.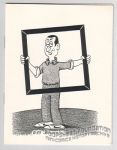 1st printing: 1983, 150 copies
2nd printing: 1983, 20 copies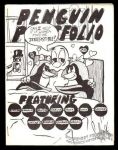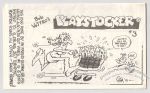 Kennedy #1554.
7 × 4¼", which opens up to 7 × 8½"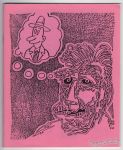 This series mostly collected Willis work originally published by others.

Published in 1985, released to the public in '86.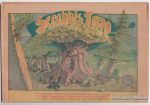 Full-color covers and centerspread.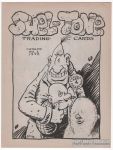 Larry Shell's catalog of oddball, non-sport trading card sets. Cover art by George Erling.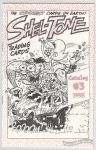 5¼ × 8¼"
16 pages
2-color throughout