Jeff Kipper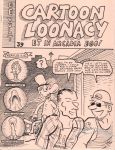 Some of this issue's contents: Mark Campos' E.C. Comics-reminiscent cover, Brian Buniak's indepth analysis of Don Bluth's Thumbelina, a fold-out Buniak poster, a four-page jam comic between Gary Usher, Jeff Zenick and Jim Conatser.

Characters appearing in art and comics include: Bullwinkle Moose, Superman, Christopher Reeve, George Reeves, Margot Kidder, Noel Neill, Bert and Ernie, Big Bird, Oscar the Grouch, Snuffleupagus and Morty the Dog.

This issue also includes a Buniak flyer insert.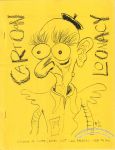 Some of this issue's contents: a cartoon tribute to MAD Magazine's Alfred E. Neuman (originally done for the San Diego con program) by Pete Fitzgerald; a five-page "Romwald vs the State" comic by Vince Kimszal, Tim Corrigan and Brian Buniak originally planned for the Comix Unlimited fanzine in the mid '70s but never published; a foldout poster by Brian Buniak of Arnold Schwarzenegger as Conan the Barbarian.

Characters appearing in art and comics include Garfield & Odie, Batman, Davy Crockett, Green Lantern, Bugs Bunny, Jughead, Archie, Casper, Space Ghost, Mickey Mouse and They Might Be Giants' John Linnell and John Flansburgh.

This issue also included two flyer inserts.
Fewer than 50 copies printed (probably more like 25).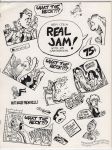 Jam comix featuring comic book artists, syndicated strip cartoonists and editorial cartoonists.