Scott Bieser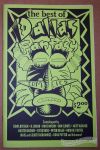 Collects work from Dallas Fantasy Comics (souvenir mini-comic of the Dallas Fantasy Fair) and Dallas Fantasy Fair Mini-Comics Workshop minis.

It also includes Tosh's autobiographical "Dinner with Crumb" story and a number of jam comix pages by artists like R. Crumb, Spain Rodriguez, Gilbert Shelton, Denis Kitchen, Bill Sienkiewicz and others.

There are a few contributors I'm not sure about:
-- "KH"
-- "Roe" (Charles Roe?)
-- "Cavazos"
-- unknown (the piano wire flossing illo)
-- "CLJ"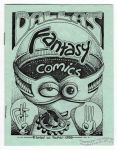 Souvenir comic of the Dallas Fantasy Fair, produced and published during the show.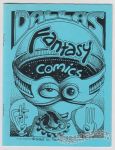 Souvenir comic of the Dallas Fantasy Fair, produced and publishing during the show.
2nd printing printed on darker blue stock.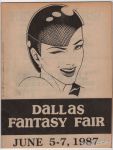 Scheduled guests included Gilbert Hernandez, Jaime Hernandez, Gary Groth, Burne Hogarth, Gil Kane, Denis Kitchen, Harvey Kurtzman, Kerry Gammill, Bob Burden, Harvey Pekar, Joyce Brabner, Jaxon, Brad W. Foster, Richard Pini, Dave Stevens, Gene Colan, J.M. DeMatteis, Robert Asprin, Ben Dunn, Philip Jose Farmer, Stefano Gaudiano, Lea Hernandez, Doug Wildey, Mike Zeck, Steve Jackson, Frederik Pohl, Michael H. Price, Doug Potter, Don Ivan Punchatz, Kenneth Smith, Don Thompson and others.
Roughly 8¼ x 11".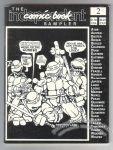 This was a two-volume minicomic series that spotlighted creators of independent comics with a half-page bio and one or two pages of art for each cartoonist (many drawn especially for this series).
Appearance by Teenage Mutant Ninja Turtles.
A full-size comic version (with color covers) of this series was planned for June 1989 but I don't believe it was realized.
There may be more contributors than listed above.