Spain Rodriguez
[Note: At least one image in this entry was found online (probably at an auction site) and saved for personal use. And then the Database project came along! If you recognize your image we'd like to have your permission and would love to give you credit for your work. Please contact us through Site Info > About in the main menu up top.]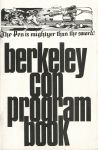 Convention organized by Nick Marcus, Mike Manyak, Jon Campbell, Clay Geerdes, John Barrett, Bud Plant, and Robert Beerbohm.   Program printed by Rip Off Press.   Comix World article by Clay Geerdes, front cover by Rick Griffin, back cover by Larry Todd.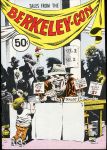 "Tales from the Berkeley-Con," underground comic format program book published by Last Gasp/Rip Off Press.  Wrap-around cover by Rand Holmes.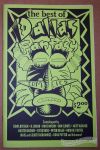 Collects work from Dallas Fantasy Comics (souvenir mini-comic of the Dallas Fantasy Fair) and Dallas Fantasy Fair Mini-Comics Workshop minis.

It also includes Tosh's autobiographical "Dinner with Crumb" story and a number of jam comix pages by artists like R. Crumb, Spain Rodriguez, Gilbert Shelton, Denis Kitchen, Bill Sienkiewicz and others.

There are a few contributors I'm not sure about:
-- "KH"
-- "Roe" (Charles Roe?)
-- "Cavazos"
-- unknown (the piano wire flossing illo)
-- "CLJ"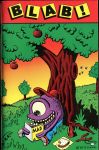 EC article illustrated with art by Wally Wood, Johnny Craig, Jack Davis, Graham Ingels, Al Feldstein, Harvey Kurtzman, Joe Orlando, and Will Elder.    Notes from the Underground: remembrances of EC from numerous underground artists.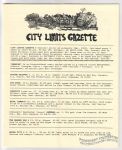 Steve Willis' biweekly newsletter full of comix news and commentary.
Also in this issue: CLG Reader Profile of Jerry Riddle, comix reviews by Lynn Hansen, Bruce Sweeney's "Underground Station" column (with header art by Spain), more.
Unbound, b&w interiors.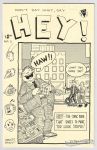 One of the highlights of this issue is a centerspread jam comix by D. Tosh, Spain Rodriguez, Denis Kitchen, R. Crumb and Gilbert Shelton.
At least three printings exist. The 3rd has an Ozone Press logo in place of SoL (see images). Ozone Press is 3rd printing.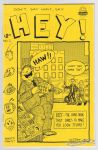 At least three printings exist. The 3rd has an Ozone Press logo in place of SoL (see images).
5½ × 8½"
16 pages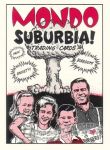 Very funny and nicely-produced trading card set featuring 26 artists' visions of suburban America.
26-card set printed in two-colors.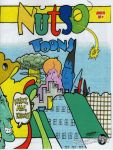 Content includes some Everyman Studios reprints along with new material. This issue debuted at DINK in Denver, Colorado.
8½ x 11"
36 pages
Full-color wraparound cover

There may be other contributors not listed above.