Rick Bradford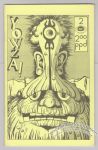 Contents include a five-page cartoon tribute to the Three Stooges.

Other characters appearing include Cloak & Dagger, Ratman, Ronald Reagan, Galen the Saintly, the Ruz, Howie the Hat, Captain America, Longshot and Renegade Rabbit.

United Fanzine Organization memberzine.

There's also a Greg Young listed on the contributors page but I honestly can't figure out what he did (if anything) in this issue.
Cover printed on mottled cardstock.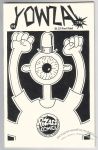 The Three Stooges, Captain Kangaroo, Sesame Street and the Playmates are some of the subjects in this issue.
Pizazz Comics memberzine.
There may be more contributors than listed above.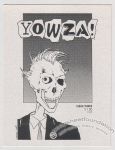 Set of eight postcards that reproduced Yowza! covers plus one or two new pieces.
4¼ × 5½"