Mike Hill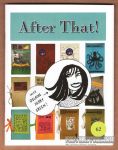 Micah Liesenfeld's continuation of D. Blake Werts' Copy This! / Copy That! title that spotlighted small press creators.
Interview with Delaine Derry Green with plenty of art by Delaine and others.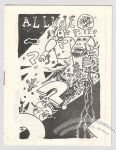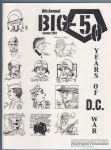 Fanzine celebrating 50 years of war comics as published by DC. The wraparound cover is loaded with cartoonist portraits and self-portraits. Many of those artists also get one- and two-page articles inside about their military experience and comics work (plus new artwork).
There's also a full-color centerspread painting of the USS Stevens by Sam Glanzman.
There may be other contributors not listed above.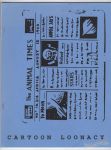 This issue included a double-sided letter-sized insert with work by Jim Siergey, Buzz Buzzizyk and Mike Hill
Characters appearing in art and comics include: Splash Brannigan, Fred the Clown, Felix the Cat

Fewer than 50 copies usually printed (probably more like 25).

Centrail Mailer for this issue: Mark Campos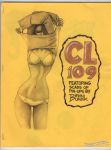 Some of the contents include: a fold-out mini-poster by Brian Buniak, back cover jam page

Characters appearing in art and comics include: Fats Waller, Frankenstein's monster, Hokey Wolf, Frank Gorshin/the Riddler, Sandman (Marvel), Lee Meriwether/Catwoman, Batman, Larry Storch, the Joker, Deanna Lund, Susan Silo, Donna Loren, Terry Moore, Simpsons characters, Morty the Dog

Hand-colored element on cover.

Central Mailer for this issue: Darren Auck and Mike Kraiger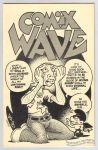 Appearances by a Smurf, the Beatles and Yoko Ono.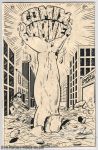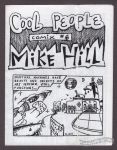 One 8½ x 11" sheet folded twice.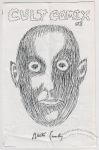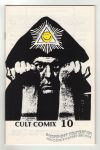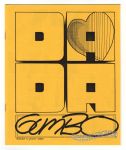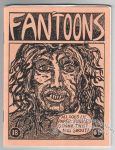 One of the highlights of this issue is a centerspread jam comic by Mike Hill, Bruce Chrislip, Michael Dowers, Hal Hargit and Edd Vick, which unfolds out to an 8½ × 11" jam by Vick and Steve Willis.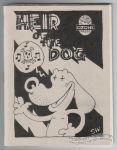 In 1987 Steve Willis announced that he was killing his Morty the Dog character for good this time (or so he said). So the team of Hal Hargit and David Tosh got a bunch of cartoonists together to produce this thick  "affectionate tribute/roast/eulogy" for the character (and his creator, of course).

Highlights include:
* Morty meets Fritz the Cat (courtesy of D. Tosh)
* a gorgeous Morty centerspread by Jeff Gaither
* Steve Willis as a Matt Feazell stick character
* Wayno's story in which Morty meets Howie the Hat (sort of) and speaks only in lines from classic R&B songs
* Ted Bolman's "The Mortys Steve Didn't Draw"
* an 8½ × 11" fold-out jam by Willis and most of the contributors

Cardstock covers
Includes fold-out centerspread.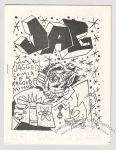 "Jagged Comix fer Ragged Minds"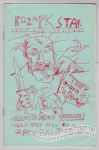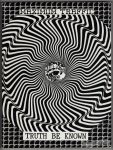 This book contains one long narrative that incorporates (complete) comics, strips and art by various writers/artists.
8 × 10½"