You are here:  

Home

>

Jack Bertram
Reference Materials
Contents include a six-page interview with Roberta Gregory, lots of reviews (including many cover scans and art samples), comic strips and more.
Contents include: interview with Phil Foglio, a column by Marc Arsenault and lots of comics reviews.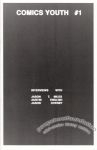 Interviews with Jason T. Miles, Austin English and Jason Overby.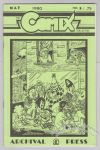 Contains an interview with Jay Kinney.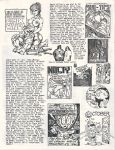 Photo of Kevin Eastman and Peter Laird.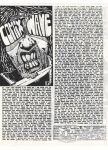 This issue's got an illustrated logo by Kevin Eastman, a Mary Fleener "Madame X from Planet Sex" strip, news and other info.
The scan here is a photocopy of an original newsletter.