Wayne Truman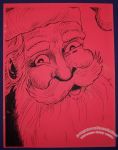 Some of this issue's contents: five pages of Kazaleh material originally done for the Ren & Stimpy comic but never published; a nine-page jam comic by Hilary Barta, Scott Beaderstadt, Howard Bender, Brian Buniak, Daryll Collins, Barry Crain, George Erling, Pete Fitzgerald, Greg Gill, Mike Kazaleh, Brian Thomas and Bill Wray; a one-page jam drawing by Brad Foster, David Tosh, Wayne Truman, Craig Miller and Ben Dunn.

Characters appearing in art and comics include: Ren & Stimpy, Tor Johnson, Godzilla, Beetle Bailey's Sarge, Ted Danson, O.J. Simpson, Davy Crockett, Dudley Do-Right, Frankenstein, the Seven Dwarfs, Andy Capp, Dick Tracy and Santa Claus.

This issue also included a two-color Christmas card by Daryll Collins and a Max Traffic flyer insert.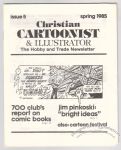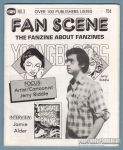 Contents: spotlight on Jerry Riddle; interview with Jamie Alder (Bill Shut); photos of Jerry Riddle, G. Raymond Eddy, Sean Cliver, Matt Feazell, Jim Main, Kirk Chritton, Randy Paske, Erik Larsen, Gary Panter and Francis Mao; letters from Gary Lovisi, Eric Hampton, Tim Corrigan, Wade Busby and others; more.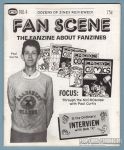 Contents: interview with Bob "X" (Xex Graphix); spotlight on Paul Curtis' Micro-Comics series; news and reviews; letters from Erik Larsen, Tim Corrigan, Kirk Chritton and others; comic strips; photos of Paul Curtis, Robert Stump, Jason Marsden, Steve Leach, Christopher Howard, Jeff Gaither, Mark Heike, Olas Manns, Chester Brown, Jon Strongbow, Shawn Christie, Ross Raihala, Jeff Nicholson, Michael Roden, and Bob "X"; more.